Transforming Instruction with Interactive Whiteboard Systems-An Overview
1 Salary Point | 37.5 Hours
Sale price

$109.00

Regular price

$109.00
Course Only
Download Syllabus
Instructional Strategies
Technology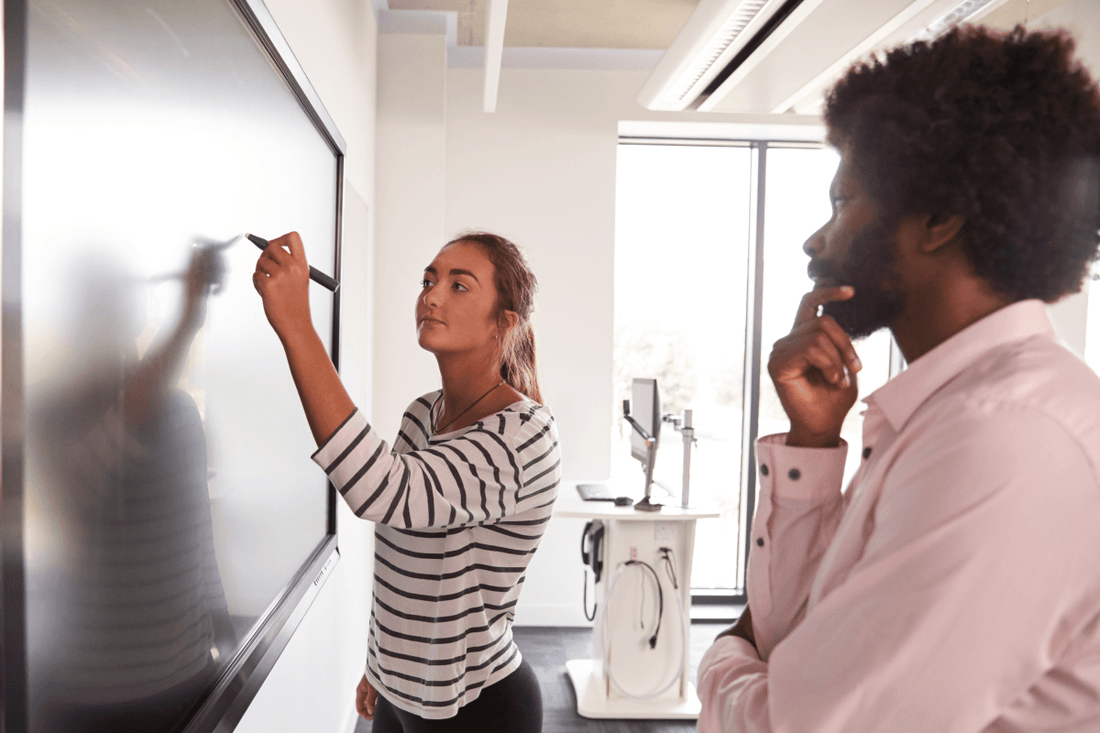 Course Description
This professional development course is available for LAUSD teachers and can be used for salary advancement and recertification.
This continuing education course will introduce you to the transformative possibilities that interactive whiteboard systems can have on your instruction. An interactive whiteboard system is comprised of many separate components from many companies, but when integrated into a whole system, it becomes a powerful instructional tool in the hands of a trained teacher. The first section of this course will provide a brief overview of different digital whiteboard systems and current research of their effectiveness in the classroom. The next section will build a strong foundation of skills necessary to successfully control the hardware and software used. These skills include basic operations, manipulating graphics and objects, overlay tools, and integrating peripheral products.
The last section will show you how to integrate these skills into general lesson activities which you will then apply to create a lesson of your own. This course features 29 videos comprising over three hours of core video-based training, allowing you to see a credentialed teacher/ certified trainer using an interactive whiteboard system. The skills and their integration into general activities covered in this course are designed to be transferable to any hardware or software platform.
Please Note:
Although having access to any brand of digital whiteboard is not required, it will greatly enhance your learning experience. Most of the software applications referenced are available as free downloadable trials and are compatible with Windows and Mac operating systems.
Most lessons in this course demonstrate hardware and software features through the use of core and auxiliary online streaming videos. Core videos, which are embedded in the web page, have been created and professionally produced specifically for this course and feature a digital whiteboard system from SMART Technologies. Auxiliary videos, which can be accessed via web links, have been produced by others and feature different digital whiteboard systems.
Objectives:
LAUSD Teacher Learners will be able to:
Identify components of an interactive whiteboard system
Discuss current research in instructional technology as it applies to your classroom
Understand how to use specific skills including basic operations, manipulating graphics and objects, overlay tools, and integrating peripheral products
Practice using software used in an interactive whiteboard system
Identify how skills covered in this course can enhance and transform many types of lessons
Apply skills learned in this course to develop your own lesson
Discuss challenges and successes in using interactive whiteboard systems in your classroom
Get your LAUSD salary points today!
Enrolling in a Course:
Add the course to your cart.
When you are ready to check out, go to your cart, and click "Check Out".
You will be asked to log into your account or create a new account.
Follow the enrollment and payment prompts. If you have a gift card or discount code, you will enter it at the end of the enrollment process.
Upon purchase, you will receive an email receipt and be able to log in to your course at eClassroom Sign in. You have 180 days (about 6 months) from your purchase to complete your course.
If you haven't already done so, please be sure to add your LAUSD Employee ID number and School Name on your "My Account" page. This only needs to be done once.
If you have any questions, check out our FAQs or email support@cecreditsonline.org.
LAUSD teachers are able to submit up to 12 credits/salary points from CE Credits Online per trimester (Jan-Apr, May-Aug, Sept-Dec).
Receiving Salary Points
Upon completion, your completion paperwork will be submitted directly to the LAUSD Professional Development Unit by CE Credits Online along with the NA Claim for Staff Development Point Project form at the beginning of the following month.
PLEASE DO NOT SUBMIT ADDITIONAL PAPERWORK If you decide to request graduate credits for your completed course, the official transcript you receive from the university will be for your own personal records. Each course can only be submitted once, and we will provide all necessary paperwork to LAUSD.
Salary point credit approval for NA Forms is done by the Professional Development Unit and may take up to 3 months to process. The delay in processing your salary points will not affect the eligibility date of your schedule advancement, as they are backdated to the date of completion. If the points from your NA Form have not been posted to your account on the LAUSD website at the end of 3 months, please contact the Salary Allocation Unit at 213-241-5100.
We highly recommend that you check the number of salary points you have in your account before you complete your CE Credits Online course(s). Then check again eight weeks after receiving notification on your Student Homepage that your completion paperwork has been processed and submitted to the Salary Point Committee by CE Credits Online. Since the new salary points are added to your account without identifying the coursework for which you earned the Salary Points this will help you to identify receiving the additional salary point(s).
You may check the status of your Salary Points.
Receiving Graduate-Level Professional Development Credits
Upon completion, email support@cecreditsonline.org and let us know you have completed the course, which university you have selected (see University Partners).
CE Credits Online will email you instructions on how to pay for and obtain the credits.
CE Credits Online will forward all necessary documentation to the university you selected enabling you to receive an official transcript.
You must check with your district to ensure the credits received will meet your specific requirements. We will not be held responsible if your school, district or state does not accept the credits issued.