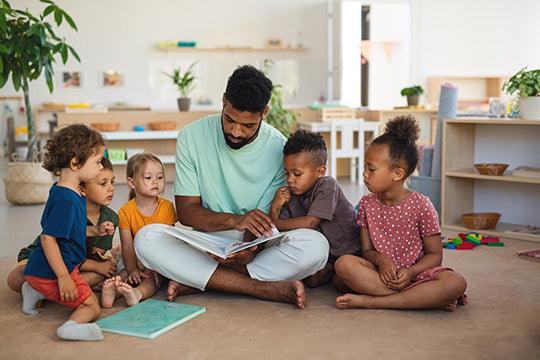 In recent decades, advances in research have coalesced around a strong body of research that provides a framework for high quality literacy instruction - known collectively as "The Science of Reading". This course begins by comparing the competing views of reading instruction under the umbrella terms of "phonics" and "whole language". Teachers then learn how the brain truly learns to read as they study grain science and analyze current models and analyze how they are supported by research.
Building from this foundation, educators learn about the two components of reading comprehension - word recognition and language comprehension. Teachers learn about the primacy of phonemic awareness, phonics, and fluency for decoding. Then in a later module, participants consider the components of language comprehension including background knowledge, verbal reasoning, vocabulary, language structure, and text structure. By the end of the course, participants will gain the complete picture of how all these components come together to build fluent reading skills necessary for reading and overall academic achievement.
Throughout the course, teachers learn to advocate for the science of reading. Those who successfully complete the course will be on their way to implement and advocate for this rigorous, research-based instruction and for equitable access to high quality phonics-based reading programs.
To Enroll in a Course:
If you need a certificate of completion only, choose the Course Only option. Or…
If you need an official transcript, choose the Course & University Credits option. See our University Partners page for more information about our regionally accredited university partners.
Add the course to your cart.
When you are ready to check out, go to your cart, and click "Check Out".
You will be asked to log into your account or create a new account.
Follow the enrollment and payment prompts. If you have a gift card or discount code, you will enter it at the end of the enrollment process.
Upon purchase, you will receive an email receipt and be able to log in to your course at eClassroom Sign in. You have 180 days (about 6 months) from your purchase to complete your course.
If you have any questions, check out our FAQs or email support@cecreditsonline.org.
Course + Credits Courses
We have partnered with a number of regionally-accredited universities. See University Partners tab for information about our regionally-accredited university partners.
All courses taken for graduate-level professional development credit receive both a Certificate of Completion for your records and an official University Transcript.
Upon completion of your course, CE Credits Online will forward all the required documentation to the university you selected.
Graduate Credits are available through Adams State University. Graduate-level professional development credits are available through Valley City State University and Humboldt State University. The University partner will process your course completion and provide a transcript that includes the name of the course, course number, number of credits, and your grade.
You will receive directions on how to receive your transcript in email form, and you can also review the University Partners section of our website for more information.
Note: If you would like to receive your credits from Adams State University, please purchase the Course Only version of the course, and, upon completion, email support@cecreditsonline.org asking for for graduate credit through Adams State University. Each graduate credit costs $55, and you will be emailed instructions.
You must check with your district to ensure the credits received will meet your specific requirements. We will not be held responsible if your school, district or state does not accept the credits issued.
Course Only Courses
We offer all of our courses as a Course Only option (credits not included) that can be used to meet your recertification or professional development needs (always check with your district/state to determine eligibility).
Upon successful completion of your course, you will receive a Certificate of Completion for your records that will include the name of the course and number of professional development hours completed.
The Certificate of Completion acts as a record that verifies that a professional development course was taken and passed.